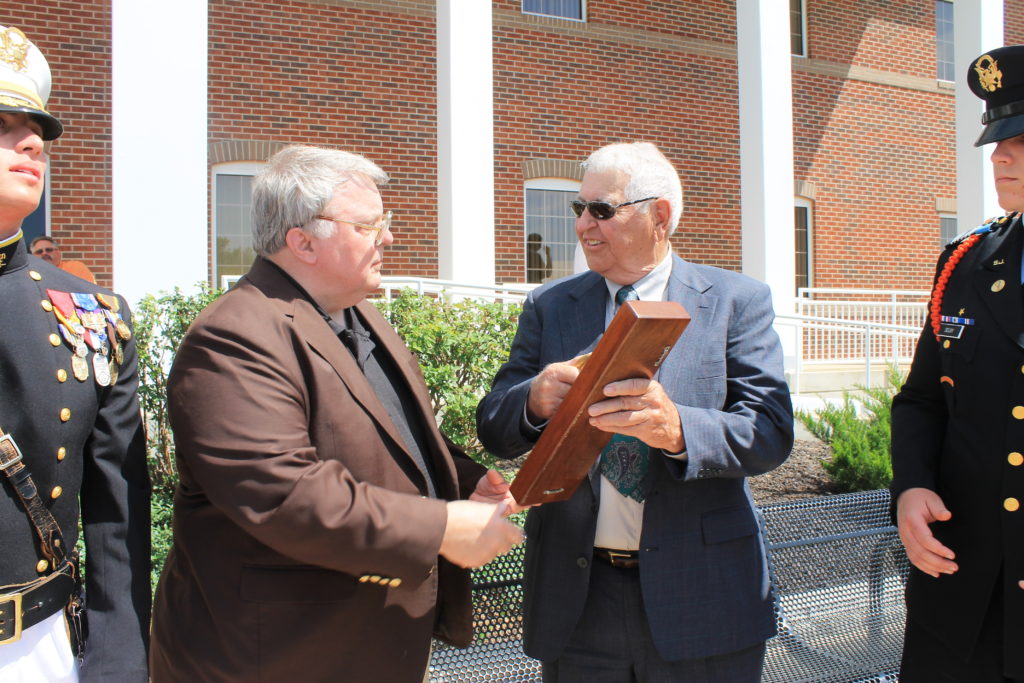 The Handle Of Memories
"Wrapping my hand around the handle for the first time since I graduated brought back much more than I had anticipated. The feel of the handle was strangely familiar yet haunting after some 30-odd years. The place I lived, like it or not, was gone, nothing left but an old front door handle that I must have wrapped my hand around over a thousand times as a Cadet."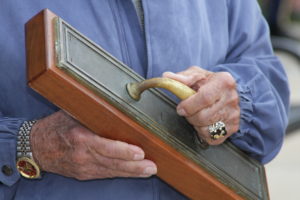 Lou Barnett, Old Boy Class of 1973, is referring to the door handle that was once the passageway to old Vail Hall, the first building established on the St. John's Military School campus. Built in 1887, the hallowed building was home to Cadets, administration, teachers, staff offices, classrooms, and the Chapel. Named after Right Reverend Thomas Hubbard Vail, the proud gothic four-story structure stood tall on the Kansas prairie until November 6, 1978. A fire destroyed the three-foot thick walls and reduced the structure, and the hearts, of many in the St. John's family, to smoldering rubble.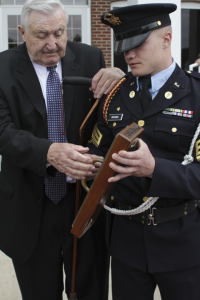 Rev. Bill Salmon, Old Boy class of 1953, reminisces: "Every year I cry during the passing of the Handle ceremony. The circle of Old Boys is an emotional reminder of what I left behind as I first grasped the handle on the door to Vail Hall in 1951. Walking through this portal was an act of leaving behind the past and an introduction to my future. This yearly activity is a reminder of this transition. Like a butterfly, my two years as a Cadet gave me a safe environment to gain the intellectual, physical, and spiritual tools to face the transition into my young adult values. My tears remind me of a birth that was necessary to put childish things behind me."
The History Book of St. John's explains how the tradition was born on Sunday morning, May 24, 1979, during St. John's Military School Commencement. As graduating seniors and St. John's alumni gathered, the front door handle from old Vail Hall was passed around the circle by Jack K. Vanier, SJMS Old Boy, 1940 – 1944. School President COL. Keith Duckers explained that Vanier searched through the building after its destruction by fire to salvage memorabilia from the aged hall. Among the items he recovered was the front door handle, which had been touched by virtually every Cadet since St. John's has been in existence.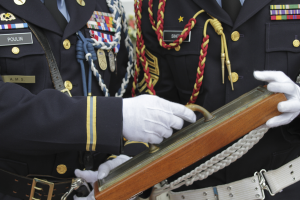 Fred Pate, Old Boy class of 1942, reflects, "I often look at the picture I have of Old Vail Hall hanging in my office and gaze upon those long stair steps leading up to that massive front door with the beautiful brass door handle. This immediately brings back my four years of residing in that lovely old sandstone building, yes a little worn, tired, creaky, and aged but still proud 'VAIL HALL.' Oh yes, I had some bad times but also so many good times. I have often said if I die tomorrow and could come back, I would still want to live my same life over again, especially my young and happy days at St. John's Military School, residing in the building called Vail Hall with the brass door handle."
You see, holding onto the handle, brings back the friendships of brothers past and present. It is the pride that overwhelms many who have stepped onto the campus with loving memories, instilled deep in their hearts. Henry Ober, the first valedictorian of St. John's, offered words of wisdom in his Commencement address, ones that still ring true today: "I have simply to hope that our future lives, be they long or short, may be in honor to our parents, to our friends, to our state, and especially to our alma mater, from whose halls we go forth today, the class of 1890, the first graduates of St. John's." The Handle Ceremony
Today, the tradition of passing the handle continues with every graduating senior gathering with alumni, touching the handle of memories. What was once a handle to a door on a wonderful old building has become a rite of passage for generations of young men.