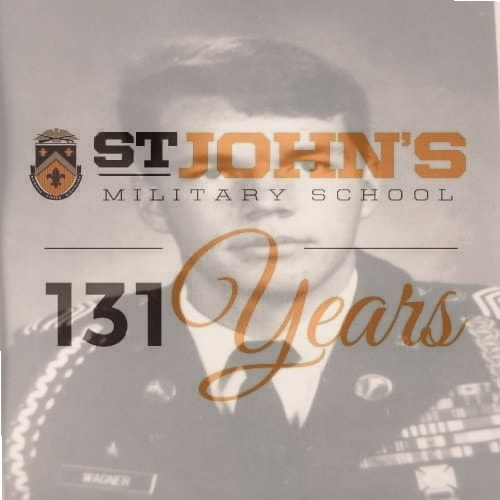 All Good things must come to an end but the memories can go on forever.
No Matter what the future of St. John's Military School holds, Old Boys still have a Home with the Old Boy's Association. This site is dedicated to the Boys that have become men for over 130 years.
---
Special Announcement:
---
3/24/19 – Commencement Dinner on 5/11/19 requires registration and Pre-Payment by 4/30/19

In lieu of the President's Reception usually held right after commencement that the OBA cooks for Graduating Seniors and their families and Old Boy alum, the school is holding a special social and dinner at the Tony's Pizza Event's Center (known by most of us as the Bi-Centennial Center) on Saturday May 11th starting at 6pm. This event is an open event for anyone that want's to celebrate St. John's and seating is limited. Because of the size of commencement this year, and because mother nature has it's tendency to be unpredictable the event has been moved to this venue. Pre-Registration and payment of $20 per person is required for this event and in non-refundable. The cost of this event is far exceeding the $20 payment that is requested and the balance is being paid for by school funds as well as those from a few generous donor's to give a final farewell to the current cadets, their families, alumni, old boys, and supporters of the organization. We have updated our website as well as provided a link to register, pay and print your tickets which will be scanned upon admission. Tickets WILL NOT be available at the door. Dress Codes and Descriptions.
If you have not done so already, please book your accommodations as rooms are filling up quick. Even if you're not 100% sure, most hotels allow you to cancel with no charge as long as you do so under their guidelines (i.e.-24 hours before).
A list of partner hotels can be found on the OBA Website along with special booking instructions for each. Calling the main reservations number or booking online will not guarantee you any special rates and in some instances hotels may have rooms blocked out online or through reservations so calling the hotel directly is required.
Thanks for your continued support of the St. John's Military School Old Boys Association and we look forward to seeing you all in May.
Sincerely,
Mike Wagner
President – St. John's Military School Old Boys Association