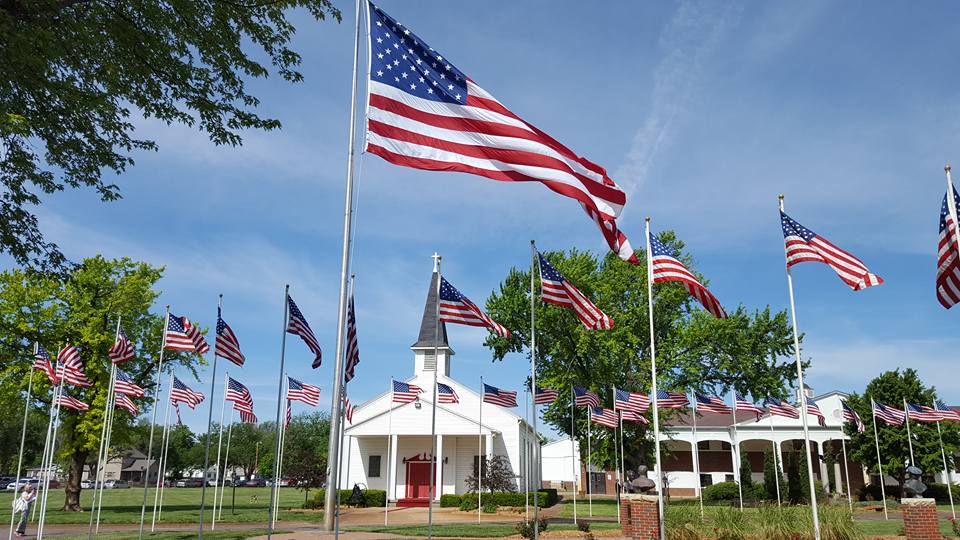 The Flag Raising Ceremony During commencement weekend at St. John's Military School, many ceremonies steeped in tradition take place. Old Boys associate commencement weekend with the values and discipline they learned while a cadet at St. John's.
Friday morning, as the chimes on Armstrong Chapel ring, the current Corps of Cadets marches onto the Teardrop each carrying an American flag. As they reach their designated flagpole, they will continue a tradition that began when St. John's celebrated its centennial.

On Saturday, May 23, 1987, all in attendance broke into an ovation as they viewed 100 American flags floating gently on a cool spring breeze. Each flag and flagpole anchored to a polished granite marker bearing the name of members of the St. John's family and friends that would forevermore be remembered or memorialized through this ceremony. The ring of flags and ceremony were the idea of the St. John's Centennial Committee, headed by D. Dale Browning, a 1955 graduate.
During the first Flag Raising Ceremony, Cadet Major David Dumler left his position as Bandmaster to raise the flag on the granite marker that bore his name. David returns almost every year to continue this tradition. David is a current member of the St. John's Board of Trustees. He states, "To raise my flag at commencement is a very surreal experience. It takes me back to the time I was a young cadet playing taps not far from that very location. When all the flags are flying on the campus, it is a visible reminder of the impact that St. John's has made on so many lives. I am honored that my flag is next to D. Dale Browning." Many Old Boys return every year to honor the memory of those named on the granite markers and reconnect with the fond memories of their cadetships.
Over the years, the number of flags and markers has grown to 130. The sight still inspires and thrills the crowd, and those standing by their flag have a private moment of silence in memory of their loved one. Beloved St. John's organist and choir director, Merrell Nelson, passed away in the spring of 2013. His flag will be raised by this St. John's sons, Francisco Arismendy, Eli Harmon, Levi Harmon, and Adam Walther. Merrell's flag, placed by Armstrong Chapel, where he served so many Corps, will offer solace to all cadets and Old Boys who knew and loved him. IMG_8878 sw
Old Boys, from around the world, return to the St. John's Campus in order to participate in the Flag Raising Ceremony. On this day, the giants of St. John's, such as LTC Paul Kellogg, Virgil B. "Lefty" Loy, Russell Guernsey, Lyman Linger, Keith Duckers, and Remy Clem come alive in the memories triggered by the ceremony. Immediately following the flag raising, F Troops forms. This collection of alumni and Old Boys stand in formation with the current Corps of Cadets as the names of St. John's Old Boys, faculty, staff, and friends that have passed away in the last year are read and remembered.
The ceremony closed with the Old Boys participating in a formal pass-in-review. Years of rust are removed as the Old Boys get in step with the Corps of Cadets and present honors to those we have lost. The crisp commands and movement of their youth find them again, and the Old Boys pay homage to all who have passed through our gates as cadets.